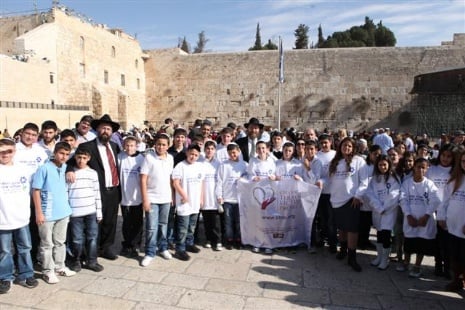 Eighty-six children in Israel, all of whom have directly experienced the pain of terror, celebrated beautiful Bar and Bat Mitzvahs at the Western Wall during Chanukah. The event was organized by Chabad Terror Victims Project (CTVP). The children and their families came to Jerusalem from all over Israel for this once-in-a-lifetime rite of Jewish passage.
Each of these children carries the scars of violent acts of terror, some of them on their own bodies, all of them on their souls.
Some are children who were wounded themselves, some are orphans who lost beloved parents, and some are bereaved siblings. All of them cope with unbearable pain and loss on a daily basis. But with a courage that is awe-inspiring, each has chosen to rebuild their lives with bravery and determination.
This special day, during which they celebrated their Bar and Bat Mitzvahs together, was a very happy day. It gave the children encouragement and strength to build their future lives as adults.

When the children arrived at the Ohel Yitzhak Synagogue in the Western Wall compound they were met by Rabbis Menachem Kutner and Yossi Swerdlov, along with other CTVP staff and volunteers.
After breakfast and refreshments, the Bar and Bat Mitzvah
ceremonies began. The boys were assisted by a group of volunteers from the Chabad Torat Emet Yeshiva of Jerusalem who helped each boy put on tefillin.
At the same time, the girls were being assisted by volunteers of the Shoshanat Yerushalayim Seminary who organized a special program for them.
At a special signal, all the children joined together with their families in a prayer service with singing and dancing. The culmination came when the boys were called to the Torah and their families showered them with candy. There was not a dry eye anywhere among the participants.

After the ceremony, the Bar and Bat Mitzvah celebrants received a variety of gifts from CTVP. Each child received a Chitat Bible set and a beautiful Chanukah menorah. The girls also received a sterling silver candle holder for Shabbat.
In personal visits before the Bar and Bat Mitzvah celebration, CTVP brought the boys beautiful Tallit and tefillin sets.
During the coming months CTVP will continue to visit children in their homes and provide them with the Tallit and tefillin sets in accordance with their actual Bar Mitzvah date.

This beautiful event followed a request that Chabad of Israel received from the official government body responsible for the terror victims in Israel -- Irgun Hayitzig. They asked CVTP for help in organizing this special Bar and Bat Mitzvah ceremony. CTVP was honored to be of help and organized all the religious elements of the day.
After the emotional ceremony at the Western Wall, a special reception was held where the children were greeted by Rabbi Shmuel Rabinowitz, Rabbi of the Kotel and Holy Places; Minister Eli Yishai; Deputy Foreign Minister Danny Ayalon. During lunch they were addressed by Member of Knesset Shaul Mofaz.
In the evening a special Chanukah candle-lighting ceremony was held at the home of President Shimon Peres. President Peres met with the children, lit candles with them, and blessed them at this very moving gathering.
The families were deeply grateful to Chabad and thanked them for helping organize this very beautiful and happy day, as well as for all the support and encouragement they receive during the entire year.