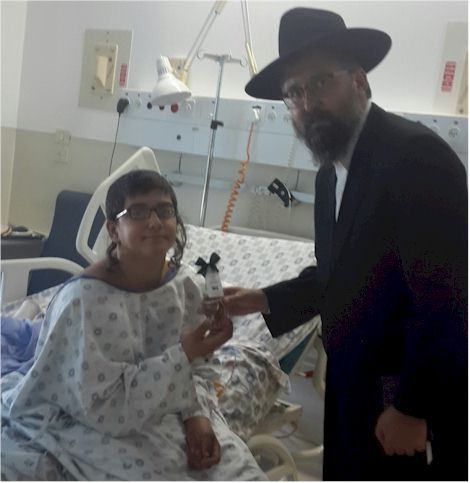 Chabad's Terror Victims Project have been encouraging and assisting those who were injured in the recent terror attacks in Jerusalem.
CTVP staff and volunteers are visiting the wounded in the hospitals Jerusalem in order to cheer them up and to provide them with emergency aid.
An especially heart moving visit took place at the bedside of the baby who was injured by a gun shot to the leg and whose father was murdered by the terrorist R"L. Rabbi Menachem Kutner saw that the baby is there alone with only his aunt by his bedside. He immediately returned again with his hands full of toys and games to make it easier for the baby and the healing process.
Please take a moment to recite a Psalm for the speedy recovery of those who have been wounded.
Their names are:
Odel bat Miryam
Natan ben Odel
Moshe ben Orli
Meir Yitzchak ben Sara Imenu
Aharon Moshe Chaim ben Chaya Chana
Dvir ben Shoshana
Avraham ben Rut
Ron Shai bat Sigalit
Adi ben Rut
Niv ben Yardena
Moshe ben Daizy
Meor Efrayim ben Furtuna Daniela
Moshe ben Edgach
Liat bat Yael
Orla bat Limor
Yosef Chaim ben Zahava