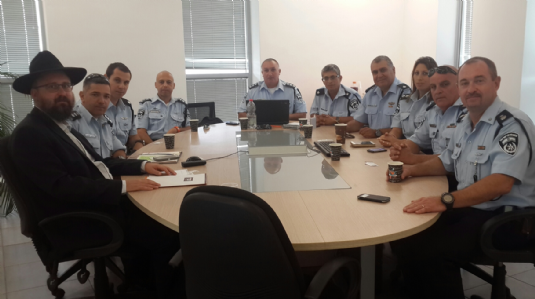 Out of a tragedy, a new program has been launched collaboratively between the Israeli police and Chabad Shluchim (Emissaries) around the world, with Rabbi Menachem Kutner, Director of Chabad's Terror Victims Project (CTVP) asked to serve as the liaison.
Rabbi Kutner was invited to a working meeting with the Israeli National Police Casualties Division. He introduced the officers to the work of CTVP with victims of terror and war and their families. He also familiarized them with the broad network of Chabad around the world and their dedication to the Jewish people and Jewish communities everywhere, even in the most far-flung locations.
It was out of a situation that occurred to the Israeli police that the impetus for this new initiative came about. One of the officers had had the heart-wrenching job of going to a family in Israel and telling them that their daughter had died in a car accident during a trip outside of Israel.
The mother became very angry and refused to accept what he was saying. She said it was a mistake, it couldn't be her daughter, she'd just spoken with her two hours before as she was leaving on another leg of her trip.
The officer realized that somehow he was going to have to find proof positive of the daughter's tragic death in order for the family to accept it.
Researching how to go about this, he was given the name of the local Chabad Shaliach in the country the daughter had been in. He called him and explained the situation and, without a moment's hesitation, the Shaliach went immediately to the hospital late that night. He was able to confirm that this was indeed the daughter of that family.
In the words of the officer: "With the assistance of the Chabad envoy, we could return and inform the family that the news is verified, and we were able to help the family during this sensitive moment even when official state bodies were not available to help us."
Because Chabad has a presence all over the world – a network of staff and volunteers dedicated to the welfare of the Jewish people - they are able to help identify Israeli citizens who are living abroad – sometimes in tragedies like this, other times for a variety of other reasons in which families have to reach their loved ones.
Chabad's Terror Victims Project is proud to serve as the liaison between the Israeli police and the Chabad Shluchim around the world. It is our distinctive program of assistance to victims of terror and war and their families – and our many years of experience - that makes us uniquely qualified to carry out this important role.