Bat Mitzvah Girl from NY Uses her Special Occasion to Help Other Children.
Ava Wildstein of Westchester, New York was celebrating her Bat Mitzvah and she wanted to use this special occasion to help other children, specifically girls like her of Bat Mitzvah age.
So, along with her mother, Amy Wildstein, and their Chabad Rebbetzin, Mrs. Sara Wolf of Bedford New York, they came to Israel to fulfill Ava's dream.
They landed in Israel on Thursday night, and first thing Friday morning they made their way to Sderot for a very special visit, organized by Yossi Swerdlov of Chabad Terror Victims Project (CTVP) and the Chabad Shluchim of Sderot, Rabbi and Mrs. Moshe Pisem.
With the help of CTVP, Ava sponsored six girls from the city of Sderot (two of them twins; three of them orphans). Sderot, which is right in the line of fire from Gaza, has seen so many rocket attacks. For the children of this town, life is often filled with trauma and fear.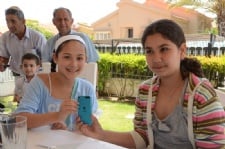 In fact, Ava's mother said that while they were in Sderot, they climbed to the top of a hill and they could see for themselves how close Gaza really is. They could see where the rockets are fired from. It was an eye-opening and frightening experience and made the importance of being there with the girls all the more vivid and real.
They went to each girl's home and Ava gave them IPod touches with their names inscribed on them so they could all stay in touch with her.
Ava and her mother and their Chabad friends spent Shabbat in
Jerusalem and then on Sunday all of the girls from Sderot came to Jerusalem. They brought parents and siblings and friends with them. They had a special tour of the Kotel Tunnels Generational Center and a wonderful celebratory lunch at the delicious Between the Arches restaurant where they were entertained by magician and Shliach to Chevron Rabbi Viktor Atia and heard words of encouragement from CTVP director, Rabbi Menachem Kuter.
The whole group then went to the Kotel for a beautiful and very emotional Bat Mitzvah ceremony led by Rebbetzin Sara Wolf and Rebbetzin Sima Pizem.
It was a moving experience for everyone involved. Ava felt embraced by everyone she met. Her mother said that she is still absorbing it and that it will be very impactful for her.
This was Ava's first trip to Israel and she wants to go back again very soon. She was very touched by her time with CTVP and with the girls of Sderot and wants to do more to help. The family is already planning to return in December to continue the spirit of giving and helping that they began on this trip.